Review - Ulefone Note 8P smartphone Android 10 - experiences
Start of our "Smartphones under 100 €" test series
With the Ulefone Note 8P, we start our test series of inexpensive Android smartphones. I am very curious to find out what kind of smartphone performance you can get in 2020 for, in this case, just under 60 euros.

Buy the Ulefone Note 8p on Amazon.co.uk
Of course, you can't expect miracles for less than 100 euros, but as a second cell phone, work cell phone or cell phone for the children, such a device should also offer an appealing performance. In this review you will find out what the first test candidate, the Ulefone Note 8p, does.

Buy the Ulefone Note 8p on Amazon.co.uk
Produktpreis wurde zuletzt aktualisiert: 2020-12-04 09:37:01


The technical data of the Ulefone Note 8P
What technical data does a 60 € smartphone have to offer?
32 GB RAM or more and a high-end camera, etc. - of course you shouldn't expect that at this price. So let's first look at the purely technical data.
Dimensions: 14.17cm x 6.65cm, thickness 1.2 cm (all dimensions without protective cover)
Screensize: 5.5 "(13.97cm)
Processor: MediaTek MT6737 Processor
 - © www.lifetester.net
CPU: MediaTek MT6737
CPU architecture: Cortex-A53
CPU clock frequency: Quad (4) core, up to 1.3GHz
GPU: Arm Mali-T720
GPU clock frequency: up to 650MHz
Storage: 2 GB RAM + 16 GB flash memory - expandable with SD card (up to 128GB)
Screen resolution: 442 + 960
Camera: 8 MP main camera + 2 MP sub camera
Front camera: 5 MP selfie camera
Battery: Lithium-ion polymer battery (built-in) - supports 5w fast charging
Battery power: up to 280 hours of standby or up to 7 hours of phone calls
Unlock functions: Face Unlock (no fingerprint sensor)
Card slots: 3 (2 x Sim + 1 x SD)
Sim: 2 slots for SIM + Micro SIM (4G / 3G / 2G) supports VoLTE HD telephony
2G: GSM: B2 / 3/5/8
3G: WCDMA: B1 / 2/5/8
4G: LTE-FDD: B1 / 3/7/8/20
Wifi: 802.11 a / b / g / n - 2.4G Wi-Fi / 5G Wi-Fi
Bluetooth: 4.2
Navigation: GPS
Android version: 10
Charging port: Micro-USB, USB 2.0
Sensors: G-sensor
also: loudspeaker, microphone, 3.5mm headphone connection (jack)
Scope of delivery: smartphone, silicone protective cover, charger, charging cable, screen protector film, quick guide for SIM card, quick guide general, quick guide charging, warranty card, SIM adapter
​​​​​​​Buy the Ulefone Note 8p on Amazon.co.uk
The first impression
Outside hui, inside well.
The delivery is very good. A protective cover made of transparent silicone and a protective film for the housing are included. Also included: charger (which looks quite cheap) incl. Charging cable and various brief instructions.
At first glance, the smartphone itself doesn't look like a Billg phone. The waterdrop notch on the display indicates a modern design. The back of the case is made of plastic, but doesn't look overly cheap. When touching and "bending" no cracking or other noises. The volume control and the power button on the left take some getting used to.
Switching on and setting up is pretty quick. However, I then had to install 2 updates, it took a while. The screen is "ok" for the price. When looking at the speed, you can see where savings have been made. You can surf the web and install or use apps without any problems. Slight jerking or sluggish reactions can sometimes occur here. I still have my problems with the touchscreen or the input, the letters next to it are often used. You have to type very precisely here. The case fits perfectly, but makes the phone quite thick, but it should be protected. The battery makes a good impression at first glance. We will deliver exactly the values.
First judgment:
You notice the lack of performance, acceptable to good feel.
​​​​​​​Buy the Ulefone Note 8p on Amazon.co.uk
First conclusion - an interim report
Not a high performance device
The Ulefone Note 8p is not a high-end smartphone, everyone should be aware of that. That was also clear to me, but of course I wanted to know in more detail whether it is true that you cannot "master" everyday life with it. Therefore, here are my impressions of the cheap cell phone from Ulefone.
As already mentioned, the feel is ok. The cell phone is a bit thicker than it may be today, but it doesn't really bother me now. The screen size is ideal for me as I don't think much of the tablet-like smartphones of the last generation. Yes, the screen resolution seems to be more from the last millennium, and considering the price, it's not very surprising that savings have to be made somewhere. But it could have been a little more.
The general speed is of course not great either, there are always jerks and delays. But yes, that was also to be expected. The Goolge Play Store works, but here too there are occasional crashes. But rarely. Simple games can be played without any problems and Tik TOk and Youtube are also running. Not always completely smooth, but they run.
The camera is also very mediocre, so high-quality photos are not to be expected indoors or outdoors. Everyone has to judge for themselves whether it is enough for a quick holiday snapshot.
First test result: moderate performance, but in line with the price. As a second cell phone, for the children to play from time to time or as a vacation cell phone with less fear of loss, it can be used.
Further updates and benchmark results will follow.
​​​​​​​Buy the Ulefone Note 8p on Amazon.co.uk
The Ulefone Note 8P in the video
Here you can see the Ulefone Note 8P in the video on Youtube. How are games running, the mobile phone jerks when scrolling in the browser, these questions are answered here.
Benchmark results
PC Mark for Android results
Work 2.0 Performance Score:
Performance: 2503
Web browsing: 3199
Video editing: 2254
Writing 2.0: 1769
Image processing: 2804
Data manipulation: 2735
Buy the Ulefone Note 8p on Amazon.co.uk
All values from System Info Droid
Values from the System Info Droid app (Info, Tools and Benchmark)
SUMMARYDevice
: Ulefone Note 8P
Android
: 10
Processor
: MT6737
CPU Max Frequency
: 1300 Mhz
CPU Cores
: 4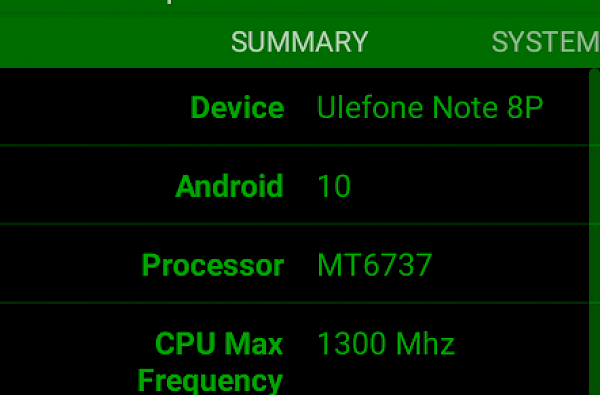 System RAM
: 1.87 GB
GPU
: ARM Mali-T720
Audio Chipset
: Te637_gq_3091ef1_eea_37_q0_go
Internal Storage
: 11.62 GB (9.71 GB Free)
Display Size
: 442x960 (5.37")
Screen Density
: 196 ppi (240 dpi)
Back Camera
: 8 Megapixels
Front Camera
: 5 Megapixels
SYSTEMModel
: Note 8P
Manufacturer
: Ulefone
Android
: 10
API Level
: 29
Kernel
: 4.9.188(1598587822)
Compilation
: Note 8P_EF1_EEA_V02
Google Apis
: Active
PROCESSORProcessor
: MT6737
Instruction Sets
: armeabi-v7a, armeabi
CPU Max Frequency
: 1300 Mhz
CPU Cores
: 4
Core 1 1248 Mhz
Core 2 1248 Mhz
Core 3 1248 Mhz
Core 4 1248 Mhz
GRAPHICS PROCESSING UNIT
General Info:
Model
: Mali-T720
Vendor
: ARM
OpenGL Version
: OpenGL ES 3.0
Advanced Info:Viewport Size
: 8192 x 8192
Renderbuffer Size
: 8192 x 8192
Cubemap Size
: 4096 x 4096
Texture Size
: 8192 x 8192
Texture Units
: 8192
Vertex Textures
: 8192
Combined Textures
: 8192
Vertex Attributes
: 8192
Vertex Uniforms:
 8192
Varying Vectors
: 8192
Fragment Uniform Vectors
: 8192
Extensions:GL_EXT_debug_marker
GL_OES_byte_coordinates
GL_OES_fixed_point
GL_OES_single_precision
GL_OES_matrix_get
GL_OES_compressed_paletted_texture
GL_OES_point_size_array
GL_OES_point_sprite
GL_OES_read_format
GL_OES_compressed_ETC1_RGB8_texture
GL_OES_depth24
GL_OES_stencil8
GL_OES_framebuffer_object
GL_OES_packed_depth_stencil
GL_OES_rgb8_rgba8
GL_EXT_read_format_bgra
GL_OES_matrix_palette
GL_OES_extended_matrix_palette
GL_OES_draw_texture
GL_OES_blend_equation_separate
GL_OES_blend_func_separate
GL_OES_blend_subtract
GL_OES_stencil_wrap
GL_OES_texture_mirrored_repeat
GL_EXT_texture_format_BGRA8888
GL_OES_query_matrix
GL_OES_EGL_image
GL_OES_EGL_image_external
GL_OES_EGL_sync
GL_OES_texture_npot
GL_OES_vertex_half_float
GL_OES_required_internalformat
GL_OES_vertex_array_object
GL_OES_mapbuffer
GL_OES_fbo_render_mipmap
GL_OES_element_index_uint
GL_ARM_rgba8
GL_EXT_blend_minmax
GL_EXT_discard_framebuffer
GL_EXT_texture_storage
GL_OES_texture_compression_astc
GL_KHR_texture_compression_astc_ldr
GL_KHR_texture_compression_astc_hdr
GL_KHR_texture_compression_astc_sliced_3d
GL_OES_surfaceless_context
GL_EXT_multisampled_render_to_texture
GL_OES_texture_cube_map
GL_KHR_debug
GL_EXT_sRGB
GL_EXT_robustness
NETWORKWifi Network:Status
: Connected
Frequency
: 2432MHz
Link Speed
: 65Mbps
RSSI
: -57dBm
RSSI Level
: 3 of 5
BLUETOOTHChipset
: Te637_gq_3091ef1_eea_37_q0_go
Version
: Not Available
Supported Modes
: Classic, LE
Classic:Power Consumption
: Up to 30 mA
Range
: 1 ~ 20 Meters
Speed
: Up to 2.1 Mbps
LE:Power Consumption
: Up to 15 mA
Range
: 1 ~ 100 Meters
Speed
: Up to 0.3 Mbps
AUDIO CHIPAudio Chipset
: Te637_gq_3091ef1_eea_37_q0_go
Supported Audio Codecs
: AAC LC, HE-AACv, AAC ELD, AMR-NB, AMR-WB, FLAC, MP3, MIDI, Vorbis, PCM/WAVE
Audio Modes
: Mono, Stereo, 5.0, 5.1, Extra
Radio Chip
: E637_37_Q0_LWG_V0.1.4_S200731,E637_37_Q0_LWG_V0.1.4_S200731, 2020/07/31 17:15
MEMORYSystem Memory:Total System RAM
: 1.87 GB
RAM Usage
: 759 MB (39.7 %)
Java VM Max Memory
: 128 MB
Storage Space:Total Internal Storage
: 11.62 GB
Free Internal Storage
: 9.71 GB (83.6 %)
DISPLAYResolution
: 442x960
Refresh Rate:
 60 Hz
Screen Size
: 5.37" (13.65 cm)
Pixels Density:
 196 ppi
Dots Density
: 240 dpi
CAMERABack Camera:Megapixels
: 8 Megapixels
Max Picture Size
: 2832 x 2832
Max Video Size
: 720 x 480
Video Fps Range
: 5 to 30
Flash Modes
: off, auto, on, torch
Max Zoom
: 99
Focal Length
: 3.95
Horizontal View Angle
: 61.607
Vertical View Angle
: 32.821
Focus Modes
: auto, macro, continuous-video, continuous-picture
Antibanding Modes
: off, 50hz, 60hz, auto
Color Effects
: none
Scene Modes
: auto, action, portrait, landscape, night, night-portrait, theatre, beach, snow, sunset, steadyphoto, fireworks, sports, party, candlelight, barcode
White Balance Modes: auto, incandescent, fluorescent, warm-fluorescent, daylight, cloudy-daylight, twilight, shade
Front Camera:Megapixels
: 5 Megapixels
Max Picture Size
: 2240 x 2240
Max Video Size
: 720 x 480
Video Fps Range
: 5 to 30
Flash Modes
: Not Supported
Max Zoom
: 99
Focal Length
: 2.9
Horizontal View Angle
: 62.939
Vertical View Angle
: 34.9629
Focus Modes
: fixed
Antibanding Modes
: off, 50hz, 60hz, auto
Color Effects
: none
Scene Modes
: auto, action, portrait, landscape, night, night-portrait, theatre, beach, snow, sunset, steadyphoto, fireworks, sports, party, candlelight, barcode
White Balance Modes: auto, incandescent, fluorescent, warm-fluorescent, daylight, cloudy-daylight, twilight, shade
TEMPERATURESystem Temp
: No sensors available
Battery Temp
: 26 ºC (78.8 ºF)
BATTERYBattery Level
: 99 %
Battery Status
: Discharging
Charge Source
: No Source
Health
: Good
Voltage
: 4140 mV
Capacity
: 2700 mah
Technology
: Li-ion
SENSORSACCELEROMETERVendor
: MTK
Power Consumption
: 0.001 mA
Max Range
: 39.2266
Resolution
: 0.0012
PROXIMITYVendor
: MTK
Power Consumption
: 0.001 mA
Max Range
: 1.0
Resolution
: 1.0
Buy the Ulefone Note 8p on Amazon.co.uk